If you'd like someone to think sweet thoughts about you, send them this delightful bouquet! A graceful heart of bear grass is tied with purple waxflower, and appears to float above red roses nestled in a ruby-red glass vase. How sweet it is!

*4 Roses delivered 4" Red cube.
*8 Roses delivered 4" Red cube.
*12 Roses delivered 6" Clear cube.
*24 Roses delivered 7" Clear cube.
*36 Roses delivered 8" Clear cube.
Red roses and purple waxflower accented with variegated pittosporum and bear grass arrive in a red glass cube vase.

Approximately 9 1/2" W x 10" H

Orientation: All-Around
Disclaimer
*Container may be substituted for a clear vase of equal value.
The style of this "pave" design is short and compact.
Please note by design, this is a small bouquet. Still stunning, just smaller in size.
4 Roses

PSF-340

8 Roses

PSF-340

12 Roses W/Free Handwritten Card

PSF-340

24 Roses W/Free Chocolates

PSF-340

36 Roses W/Free Card & Chocolates

PSF-340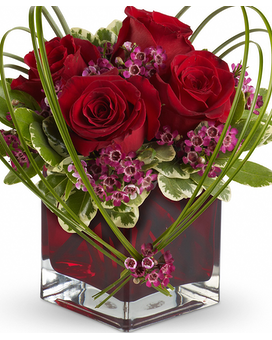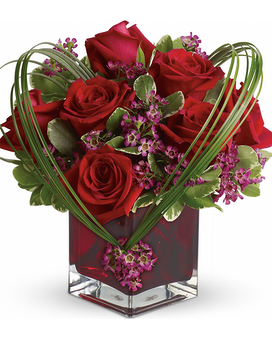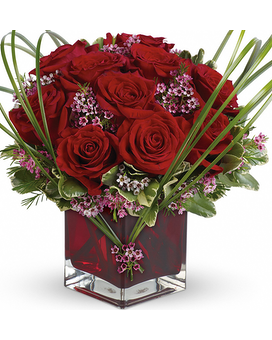 12 Roses W/Free Handwritten Card - $115.00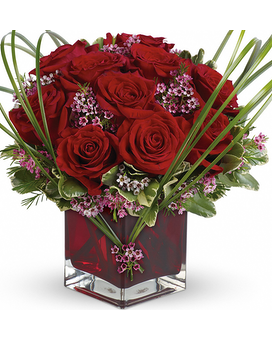 24 Roses W/Free Chocolates - $195.00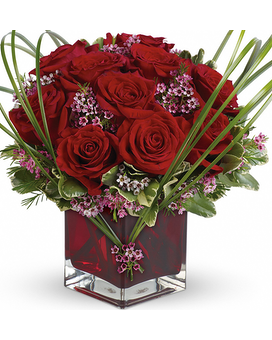 36 Roses W/Free Card & Chocolates - $285.00