Flower Delivery in Rancho Mirage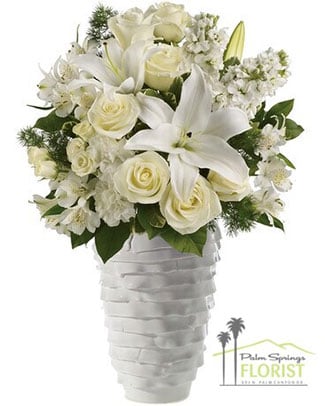 Make your recipient's day special, send birthday wishes, express your condolences, or say thank you with a beautiful flower arrangement or gorgeous green plant delivered right to their door. Our professional florists in Rancho Mirage can design the perfect flower arrangements for any occasion.
Palm Springs Florist offers same-day flower delivery in Rancho Mirage and all over the surrounding area. Our creative approach to flower design and selection of fresh-cut flowers from our own greenhouse and around the world ensure that your arrangement will be well received and absolutely beautiful.
No matter the occasion or the recipient, we can create a design that you will be proud to send within your budget. Our floral arrangements in Rancho Mirage can be customized to your preferences or delivered with extras like balloons or plush stuffed animals.
How Much Does It Cost to Deliver Flowers?
The average delivery fee for florists in the United States is between $15-$50, depending on the location and other variables. Flowers require special handling and care. Palm Springs Florist has a full fleet of refrigerated vans to transport the flowers safely in our warm climates. We have sourced the best floral transportation systems to guarantee problem free delivery and assure that your flower arrangement will arrive just as it was made on our designers table. Our design staff is trained to make sure your orders arrive safely and are properly trained to manage delivery issues along the way.
If you buy flowers from an online order gathering website, delivery and wire fees will be layered on, and they may also charge extra to include a vase or even to add greens. Those online companies are not florists. They sell products online, take your money and pass a smaller portion of the money you spent to a real local florist. Be certain to read the fine print and know that the picture may not reflect what you are sending. The best advice we can give you, ALWAYS use a real local florist with a store located in the area you are ordering flowers. Check their reviews!
Use caution when pressing the final checkout button and take the time to understand your charges. Your Palm Springs Florist will send your flowers in a vase, arranged with greens at the price listed, and then add only our local delivery fee. No hidden Fee's, no bait and switch. We set the standard of flower arrangement quality and design. You get what you pay for or better at Palm Springs Florist.
Why Choose Us For Your Floral Deliveries?
Our Rancho Mirage florist will send flowers that are prepared, designed, and arranged locally by local people. Our talented design team creates all of our arrangements, bouquets, and other floral gifts in-house. Our shop has been a part of the Palm Springs community since 1947 and we take care of our local customers here. We take pride is maintaining the finest floral designers in the desert.
If you need to send flowers out of the delivery area, we can call upon our trusted flower delivery network to find a florist in the recipient's area. Using local florists ensures that your flowers will be fresh and beautifully arranged and delivered by florists, not boxed and shipped by package companies.
We can send flowers to the people you care about for any occasion. We design:
What Kind of Vases and Containers Do You Use for Your Floral Arrangements?
We use all sorts of containers for our arrangements. Containers and vases come in nearly every size, shape, color, and material imaginable. Baskets, plastic dishes, glass vases, and ceramic keepsake containers that showcase the holiday are all available for your flower delivery in Rancho Mirage.
Using a vase or a container when designing flowers makes the actual design possible. The structure of the container allows us to artfully design and place the flowers into an arrangement that will showcase the uniqueness and color of each flower and green used.
Flowers that are ordered from some online providers will sometimes come in a box, requiring the recipient to find a water source and arrange them. There can also be an additional charge for a vase if you want one included. Our flowers include the container and the design service.
Contact Us Today for Hand-Delivered Fresh Flower Arrangements
If you are looking for stunning flower arrangements and the best flower delivery in Rancho Mirage, give Palm Springs Florist a call: (760) 325-7441 OR browse our online catalog.
Where Can You Deliver Floral Arrangements?
Palm Springs Florist offers flower delivery to:
We also offer our flower delivery service in these zip codes:
92262
92292
92264
92263
92234
92270
92260
92211
92276
92253
92210
92201
92203
We regularly visit and deliver flowers to:
City of Palm Springs
Ace Hotel Palm Springs
Parker Palm Springs
City of Palm Desert
Desert Regional Med Center
Rancho Mirage Health Care Ctr
Windsor Court Assisted Living
California Nursing & Rehab Ctr
Hallmark Palm Springs
Palm Springs Healthcare
Eisenhower Medical Center
Hope Square Surgical Ctr
City of Rancho Mirage
Indian Wells Tennis Garden
Hyatt Grand Champions
Palm Mountain Resort
Spa Resort & Casino
City of Cathedral City
City of La Quinta
City of Desert Hot Springs
Wiefels & Son Mortuary
Rose Mortuary
Desert Memorial Parks
Riverside National Cemetery
Agua Caliente Casino & Hotel
Contact Us Today to Send Flowers In Rancho Mirage
Choose a beautiful arrangement online, or let our talented local florist design the ideal floral gift to meet your budget and needs. No matter the occasion, we can send your best wishes and the perfect flower arrangement.
If you are looking for stunning flower arrangements and the best flower delivery in Rancho Mirage, give Palm Springs Florist a call: (760) 302-1796 OR browse our online catalog .