Flower Delivery in Palm Desert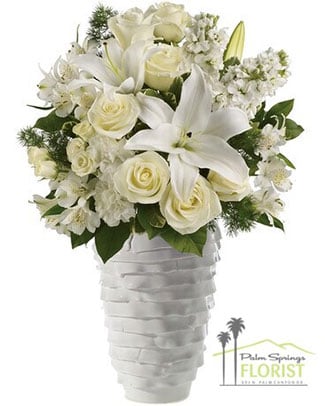 We know you have many options for sending flowers and we have built a reputation of being a reliable flower delivery service in the area for a good reason. We want you to know that your floral gift will arrive and that you don't have to worry about it.
Choosing an online floral provider who sends flowers in a box using a package delivery service can be nerve-wracking. Since these carriers deliver everything under the sun, your floral delivery is just another box they have to throw.
Using Palm Springs Florist guarantees that you are buying from a company that depends on flowers and happy customers to survive, grow, and thrive. Your floral arrangement is handled from order to delivery by people who know and love flowers. We understand floral care, and most importantly, we know what flowers mean to the people receiving them.
Palm Springs Florist Provides Flower Delivery Service to Palm Desert Residents
Trusting the florist you choose to send flowers to anyone for a special occasion can be difficult. Flowers are often a surprise until your recipient sends a picture of them, so you usually just have to hope the florist got it right.
We will provide you with a photo of your flower arrangement before we make the delivery so you can be certain that you'll be proud of the flowers we send, no matter the occasion.
How Palm Springs Florist Sources Flowers
We source top-quality flowers from our own local greenhouse and flower farmers all over the world in order to create only the best flower arrangements. Unique and unusual floral requests can be met with the finest blooms when we cooperate with growers whose climate conditions favor certain blooms.
Our assortment of premium long stem roses comes in a range of breathtaking colors directly from Ecuador. South American roses are long known in the floral industry for their enormous blooms and hearty nature.
Choosing the best quality flowers and using a variety of sources means that our selection of flowers is uninhibited by the limitations of gardening conditions in the desert. It also means savings for you, because our prices are not impacted by the cost of growing, housing, and maintaining more varieties than would be practical.
What Kinds of Flower Arrangements and Gifts Can I Send to Palm Desert?
Our florists in Palm desert can help you with flowers for any occasion. You send gifts because it's important and we realize how much it means to you and your recipient. Our professional team of designers takes the time and special attention required to create gorgeous flower arrangements that can convey the message you want to send.
Our floral designers regularly provide beautiful and unique arrangements and can design:
Sending Sympathy and Funeral Flowers to Palm Desert with Palm Springs Florist
Sympathy and funeral arrangements are a top priority when it comes to presentation and delivery. We are sensitive to customers and recipients who may be in mourning and have special or unique needs.
Our team is specifically trained to help you choose the most appropriate arrangement to convey your sympathy or celebrate the life of someone special. We can help you to navigate the etiquette of sympathy gifts, or assist you in choosing a final tribute that honors the life of someone who has passed on.
Finding the perfect sympathy flowers isn't always easy, but our floral designers and friendly staff are here to help you in any way they can.
Why Choose Us for Your Flower Delivery In Palm Desert?
When you want to send a truly beautiful flower arrangement, count on Palm Springs Florist to create a memorable floral gift that will really make an impact.
Our local flower shop has been serving Palm Springs and the surrounding area since 1947, and we'll be happy to send a stunning flower arrangement to your recipient in Palm Desert for you. As a family business established in Palm Springs over 70 years ago, our 3rd generation flower shop is very proud to be the florist of choice in Palm Springs.
Our family and talented professional florists have designed flowers for events, special occasions, and celebrations in this beautiful community for years, and we hope to continue to serve you with flower delivery in Palm Desert for decades to come.
Local Florists, Local Flower Deliveries in Palm Desert
Our fantastic staff is employed, works, lives, and shops right here in the community. Our team is locally sourced, so you know that when you order flowers from Palm Springs Florist, your arrangement isn't being designed in a warehouse and shipped off in a box.
If you are looking for stunning flower arrangements and the best flower delivery in Palm Desert, give Palm Springs Florist a call: (760) 325-7441 OR browse our online catalog.
Palm Springs Florist Delivery Areas
Send fresh-cut flowers from your local florist and support your community! We love Palm Desert and want to provide you with the best flowers in the area. Our delivery area for flowers locally in and around Palm Desert and Palm Springs includes:
Palm Springs Florist can deliver your floral arrangements on the same day they are ordered before cutoff time to the above cities and below zip codes:
92201
92203
92210
92211
92234
92253
92276
92262
92263
92264
92270
92292
92260
Contact Us Today to Send Flowers In Palm Desert
Choose a beautiful arrangement online, or let our talented local florist design the ideal floral gift to meet your budget and needs. No matter the occasion, we can send your best wishes and the perfect flower arrangement.
If you are looking for stunning flower arrangements and the best flower delivery in Palm Desert, give Palm Springs Florist a call: (760) 302-1796 OR browse our online catalog .