Flower Delivery in La Quinta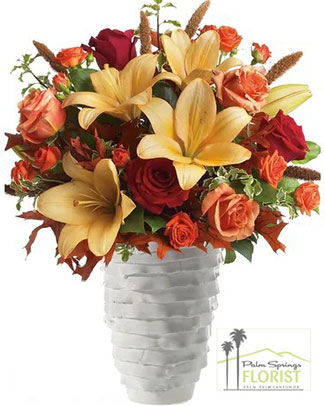 Using Palm Springs Florist guarantees that your florist isn't in a warehouse putting flowers into a box to be shipped four states away, our design team is local to the area and may even know your recipient. We know and love the Palm Springs area and it shows in the care we take to design your flowers.
Palm Springs Florist has always employed local employees from our own community to deliver our flowers. We take pride in our professional delivery team to use special care in handling live products and your beautiful flower designs. All we do is flowers, and we make our flower deliveries to La Quinta and the surrounding area every day.
We know that life is busy for everyone, but it's still important to send the perfect gift to someone you care about. Even if you don't remember their special occasion until the last minute, we will always take the time to make your floral arrangement beautiful and memorable.
Why Choose Us for La Quinta Flower Delivery?
Sending flowers that really convey your feelings means using a professional florist who cares. The florist you choose for flower delivery in La Quinta should understand the artistry of floral arrangements and be able to listen to your needs.
Our beautiful flower arrangements, gifts, plants, balloons, and plush animals come in a wide variety. You are sure to find something you will absolutely love. We work hard to make certain your gift is everything you expected and understand that gift-giving is very important to our clients. Our teams cares as much as you about making stunning and memorable designs for your recipients.
Our commitment is to provide memorable, creative designs that will absolutely delight your recipient. Palm Springs Florist has been a trusted source of flowers in La Quinta and the Palm Springs community for decades, and we truly care about our customers. We love creating messages with flowers and look forward to helping you send an arrangement you can be proud of.
We Deliver Balloon Bouquets, Flowers, Teddy Bears, and More
If you want to add a little more to your floral arrangement, we have a wide selection of balloons and plush animals to suit nearly any occasion or taste. Mylar balloons are a fun addition to a birthday arrangement and come in so many beautiful designs. They can be added to your arrangement or sent as a bouquet all on their own for a particularly festive occasion.
La Quinta Flowers and Gifts for Same Day and Next Day Delivery
Flowers are often sent for birthdays and as last-minute gifts, but we still make every arrangement special and suitable for the occasion at hand. If you're like many of us, birthdays and special occasions can escape your mind.
When you need a flower arrangement for same-day delivery in La Quinta, we have you covered. Our professional design team can get flowers, potted plants, or balloons out on the same day in many cases, and will do everything in their power to help.
We can send flowers to the people you care about for any occasion. We design:
How Palm Springs Florist Sources Flowers for La Quinta
Our floral design team works hard to make sure that our flower deliveries in La Quinta meet or exceed your expectations. In the event your arrangement requires special or unique flowers, we can reach out to our sources from around the world . We are the only florist first flower shop with an onsite greenhouse and have the largest refrigeration system designed specifically for flowers to keep out products as fresh and long lasting as possible for your orders.
We want to provide you with the flowers you would expect from a premium florist. We will continue to search for innovative ways to provide you with the best selections of cut flowers available, even in the face of supply chain issues .
Flowers for Special Occasions, Holidays, Birthdays, Sympathy, and Just Because
No matter the occasion, we create flower arrangements that will dazzle your recipient. Using a variety of colors and blooms we can create a flower arrangement that conveys your sentiment. Our florists in La Quinta regularly create:
Corporate thank you gifts

Decorative arrangements and centerpieces

Funeral arrangements and home sympathy flowers

Corsages

Happy Father's Day flowers

Happy Mother's Day flowers

Memorial Day flowers

New baby flower arrangements

Plants, dish gardens, orchid plants

Valentine's day roses and romantic flower arrangements
Call Today and Let Your La Quinta Florist Help to Make Your Local Flower Delivery Extra Special
If you are looking for stunning flower arrangements and the best flower delivery in La Quinta, give Palm Springs Florist a call: (760) 325-7441 OR browse our online catalog .
Our Delivery Areas
Palm Springs Florist delivers flowers to these cities and surrounding areas:
We Serve the Following Zip Codes in the Area:
92263

92260

92210

92201

92253

92262

92234

92211

92264

92276

92203

92292

92270
Contact Us Today to Send Flowers In La Quinta
Choose a beautiful arrangement online, or let our talented local florist design the ideal floral gift to meet your budget and needs. No matter the occasion, we can send your best wishes and the perfect flower arrangement.
If you are looking for stunning flower arrangements and the best flower delivery in La Quinta, give Palm Springs Florist a call: (760) 302-1796 OR browse our online catalog .