Flower Delivery in Bermuda Dunes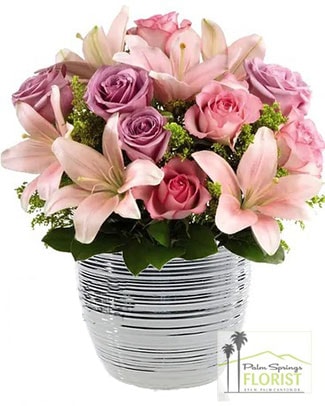 Fresh flowers delivered to an unsuspecting recipient can change their entire day. Elevate someone's spirits and send a floral arrangement, plant, or gift basket from Palm Springs Florist. We are proud to offer flower delivery in Bermuda Dunes, so reach out to us for any occasion.
We prepare all our flower arrangements on-site, and a professional florist from the local area will take the extra time to make sure your floral gift is beautiful and memorable. Fresh-cut flowers are our passion, and we are proud to be a trusted Bermuda Dunes flower shop.
What Kind of Flowers Can I Have Delivered in Bermuda Dunes?
Our professional florists in Bermuda Dunes can help you to select a design that is perfectly suited for your occasion or create a customized design that you will love. We realize how important gifts are to you and your recipient, so we do everything we can to make them spectacular.
Flowers have a language of their own and can convey your feelings from miles away, even without a card! We pay careful attention to our work and take pride in the flowers, plants, and gifts we send.
Our most popular flower arrangements are sure to be a hit with anyone, but if you need something a little bit different, we will make every effort to create what you are wishing for. Everyone loves a beautiful arrangement of fresh-cut flowers, and our designers have perfected these designs for your enjoyment:
Palm Springs Florist Provides Same-Day Flower Delivery Service to Bermuda Dunes
Finding a local florist you can trust to send the best is easy. Palm Springs Florist has been a trusted florist in the Palm Springs area for decades, and our innovative "See It First" service gives our clients peace of mind when they choose our flower shop.
Sending flowers is usually an exercise in trust. You have to have faith that the florist you chose will get the order right and get it there on time. We know that our customers are excited to see the arrangement that they purchased, so we provide you with a photo of your actual flower arrangement before we deliver.
There is no additional cost for this service. We want you to be proud of the flowers we send to your recipient, and we want our clients to feel confident that whatever they send is fresh, beautiful, and perfect for the occasion.
How Your Bermuda Dunes Florist Sources Flowers
Palm Springs Florist has found and sourced the very best flowers, grown by the finest farms around the world. Our 75 years of experience and contacts has put our Bermuda Dunes florists in the best position to get our customers the best flowers from every corner of the planet. We have an extensive and dependable trusted network of floral farmers worldwide.
When we source flowers from growers, it allows us access to flowers that flourish in different climates. Some flowers just perform better in their native soil, and we aim to only use premium quality, robust blooms and greens in our arrangements. It also saves you money, because we avoid the cost of producing and maintaining more flowers than we can use.
Unique and unusual flower requests are met by cooperating with our impressive network of flower growers. We depend on our South American growers to provide us with our roses , and we love their selection. Their roses are well known for their long-lasting nature and their impressive blooms, and the range of colors available is simply fantastic.
Contact a Local Florist in Bermuda Dunes Today
Choosing a local florist means that your order will be designed with the care only a professional floral designer can provide. We depend on happy customers for our business to flourish, so we follow the recipe for success that has always worked for us.
If you are looking for stunning flower arrangements and the best flower delivery in Bermuda Dunes, give Palm Springs Florist a call: (760) 325-7441 OR browse our online catalog..
Where We Deliver
Our delivery area includes these areas:
Whitewater

Sky Valley

Thousand Palms

Palm Springs
We deliver to the following zip codes:
92234

92201

92260

92264

92276

92253

92211

92270

92263

92210

92203

92292

92262
Contact Us Today to Send Flowers In Bermuda Dunes
Choose a beautiful arrangement online, or let our talented local florist design the ideal floral gift to meet your budget and needs. No matter the occasion, we can send your best wishes and the perfect flower arrangement.
If you are looking for stunning flower arrangements and the best flower delivery in Bermuda Dunes, give Palm Springs Florist a call: (760) 302-1796 OR browse our online catalog .