Flowers By Occasion
Sending flower arrangements by occasion doesn't have to be difficult. With so many choices of beautiful floral arrangements available, sometimes the choice can be daunting. This guide is designed to take the guesswork out of choosing the perfect flower arrangement to send your message no matter the occasion.
Palm Springs Florist can help you choose different types of flower arrangements for any occasion. Talk to our talented floral designers to learn more about the types of arrangements that might be right for you.
Types of Flower Arrangements for Special Occasions
There are many different types of flower arrangements for different occasions, but which one is right for you? This list will help you learn more about your options.
Vertical Arrangement
Vertical arrangements are designed to be tall and showy. They are typically housed in baskets or pots and make generous use of greens and ferns as a backdrop for the flowers.
This style of floral arrangement makes a wonderful display as home decor, wedding and church decor, funeral services and is also appropriate for just about any occasion.
Colorful and visually striking, tropical arrangements are often designed in vertical fashion. The eastern style of floral design called ikebana also makes use of this type of design.
Floral arrangements featuring tall flowers like delphinium, gladiolus, snapdragon, birds of paradise, carnations, roses, and other tall flowers with sturdy stalks are perfect to use in vertical arrangements
Verticals are appropriate for any occasion. Some popular occasions include:
Birthday

Congratulations

Funeral arrangements

Wedding Decor
Horizontal Arrangement
Horizontals make excellent centerpiece arrangements. Opposite of the vertical arrangement, this one is designed to be low and extend out, they may also make use of evergreens and fern to showcase the flowers. This is also the style that is used to create casket sprays.
Horizontal designs are frequently used and sent for:
Christmas

Easter

Thanksgiving
Crescent Arrangement
This is also known as a C Shape flower arrangement. Curves create graceful lines in the arrangement and offer a unique look to your arrangement. Crescent arrangements are trending right now and would be appropriate for most occasions.
High style and strikingly beautiful, this shape is commonly used for ikebana as well as tropicals. If you are looking to send something completely different from the usual vase of flowers, a crescent shape is a great choice.
Crescents are appropriate for any occasion.
S-Shaped Arrangement
This design style is very elegant. Also known as the Hogarth Curve or Lazy S, this style makes a grand display and is extremely versatile depending on the flowers and techniques used. S-shaped arrangements are perfect for any occasion that calls for stately elegance.
Much like the crescent arrangement, this shape offers a unique, contemporary feel that also lends itself easily to eastern design styles and tropical flowers.
Try an S-Shaped Arrangement for:
Church Altar

High Style Design

Offices Decor

Grand Opening Celebrations

Home Decor

Weddings

Easter

Funerals

Memorial Day

Congratulations
Fan Shaped Arrangement
This is one of the most popular styles and showcases all of the flowers as viewed from one side of the arrangement. Flowers are arranged in the shape of a fan and can be used for any occasion, with any flowers.
Mound Arrangement
The classic mound is the most popular and versatile arrangement and the one you are probably most familiar with. Mound design or roundy moundy arrangements feature flowers that can be viewed from all sides. The flowers and greens are arranged so that they form a dome or semi-circle shape. Mounds are appropriate for any occasion, using any flowers.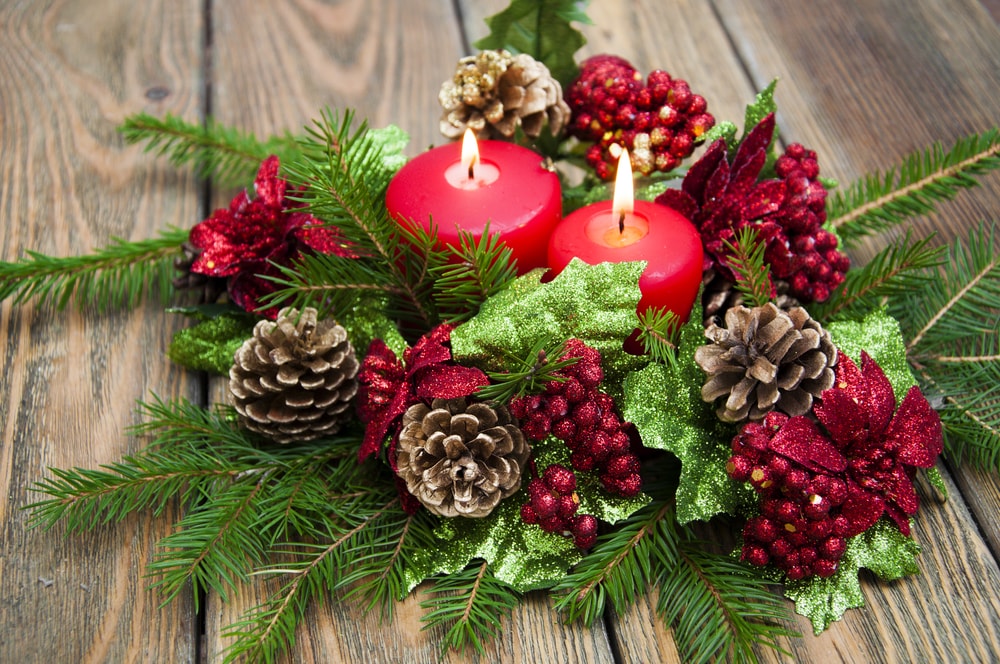 Flower Arrangement By Occasion FAQs
These are some of Palm Springs Florists' most frequently asked questions about flower arrangements for special occasions. If you don't see the answer to your question, just reach out to us and ask. We are here to help!
What is a flower bouquet?
A bouquet is the easiest type of flower arrangement. It is simply a bunch of flowers wrapped in tissue paper or cellophane and usually tied with a bow. This type of arrangement is less formal and is easily carried to hand directly to a recipient.

Bouquets can also be delivered, allowing the recipient to place them in a vase of their own choosing and arrange themselves. Floral bouquets typically are made of roses, mums, carnations, or gerbera daisies. You can also choose a beautiful mix of flowers or a seasonal bouquet, made with flowers in the colors and blooms of the season.
Bouquets of flowers are appropriate for any occasion.
Popular Occasions for Giving a Flower Bouquet:
Congratulations

Just Because

Romantic Surprise

Graduation

Birthday

Mother's Day

Thank You

Valentine's Day
What is a basket arrangement?
Basket bouquets are simply floral arrangements designed in a basket. The basket can have a handle or not and can be any shape or size. The flowers are housed in a plastic container with floral foam to hold the flowers and the water in place.
These types of arrangements make beautiful gifts for every occasion. Pink, blue, or white baskets are particularly fun for new baby arrangements to congratulate the new parents. Fireside baskets are lovely funeral flowers and make a nice alternative to the standing spray.
The basket can be designed as a centerpiece, otherwise known as a mound arrangement, with flowers distributed so that blooms can be seen from every side, or as a one-sided arrangement, also called a fan, with flowers arranged from tallest to shortest, back to front.
Popular Occasions for Sending A Basket Arrangement
Mother's Day

New Baby

Congratulations

Birthday

Thank You

Christmas

Thanksgiving

Memorial Day

Easter

Funerals

Sympathy
For Beautiful Flower Arrangements for Every Occasion, Give Us a Call
No matter the month or birthday flowers you choose to send, we will be happy to create the best birthday flower arrangements to send your happy birthday wishes. Looking for something different? Give Palm Springs Florist a call 760.819.7585