Birthday Flower Delivery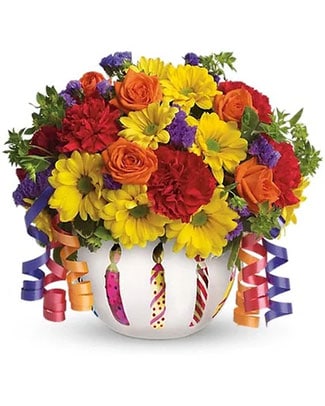 Celebrate birthdays with friends, family, and loved ones with beautiful flower designs! We've selected some of our most popular birthday flower arrangements. Most are very colorful, bright, and cheerful to celebrate the special birthdays of those you love and care about. All our birthday designs have multiple price points. Palm Springs Florist delivers same-day birthday flowers, arrangements, and gifts all over the desert to celebrate birthdays for the special people in your life. If you have special requests, call us to find out more about how we can create an arrangement you will love. Send birthday flowers now from our birthday flower category Birthday Flowers
Flowers Make The Best Birthday Gift
Yes. Flowers are perfect for celebrating birthdays, decorating birthday parties, and sending as a gift to just about anyone in your life to wish them a very happy birthday. Flowers are a cheery, thoughtful gift that can brighten anyone's day.
For added meaning, you can choose to customize your floral arrangement to suit the taste of the recipient. Birthday floral arrangements can be designed with their favorite blooms or in their favorite colors or with specialized containers designed in festive and colorful themes.
You can send a little bit extra along with your flowers by choosing a keepsake container such as a coffee mug they can use every day. Or send a teddy bear or stuffed plush animal they can hug. You can make your birthday flowers even more festive with colorful latex or mylar balloons.
What Types of Flowers Are Best for Birthdays?
In general, colorful mixed arrangements made with long-lasting flowers are perfect for anyone and convey good wishes to show them you care. If you are looking for a birthday gift that is suitable for the different loved ones in your life, here are some appropriate suggestions:
Birthday Flowers for Mom
Moms generally adore being remembered on their birthday with flowers you send from your heart. If you choose an arrangement that reminds you of her, she's sure to be thrilled with it.
If you just don't know what to pick or what her favorite flowers are, try choosing long-lasting blooms like a mix of carnations, stock, mums, and lilies. Sending a birthday flower arrangement in a beautiful vase or keepsake container is a wonderful gift that will show your love for her that she can keep and enjoy year-round.
If you want to send something a little more grand, send beautiful pink, purple, peach, orange, or mixed color roses. These are all colors that show affection and love to moms. You can choose to send a dozen or more blooms, or have the roses mixed with lilies for a stunning, showy surprise.
Birthday Flowers for a Wife or Girlfriend
If you have a woman in your life, you want to send something as beautiful and special as she is. A romantic dozen rose arrangement in red is a classic choice that many women prefer. But what if she's a little more unique? Choose flowers that suit her personality.
For the free spirit, wild colors, tropical arrangements , and unique blooms in bold colors might be your best choice. If she is a sophisticated lady, stunning roses in white with a crystal vase would be an elegant selection that is sure to please.
A girl who loves romance will certainly love roses, but a wildflower arrangement with flowers in her favorite varieties and colors will touch her heart.
Birthday Flowers for Men
Guys like dads, boyfriends, brothers, or uncles like to receive gifts and be remembered on birthdays. For any guy, fun and funky tropicals are a long-lasting choice that can be elegantly designed with a masculine look.
An easy-care plant like pothos or spathiphyllum is also a great choice for men because of its long-lasting nature. If you don't think flowers are the right call, try sending a balloon bouquet or gift basket of their favorite snacks or treats.
Can I Send Birthday Flowers for Same-Day Delivery?
In most cases, you can send flowers to anyone on the same day. Unless they live in an extremely remote area, many florists accept same-day delivery orders up until their cutoff time.
The cutoff time varies depending on the location and policy of the florist in the town your recipient lives in. But if you remember a birthday before noon, you might just be in luck.
What if My Recipient Isn't at Home to Receive Their Birthday Flower Delivery?
It would be disappointing to take off on a spontaneous weekend birthday trip to come home and find a dead flower arrangement on your doorstep. In order to prevent any disappointing events on your recipient's birthday, we will call them before we deliver.
We know you are sending flowers as a surprise, so we won't say who they are from or what the arrangement looks like. We will call your recipient to let them know they are receiving flowers and make sure that they will be home.
We want to be certain that their arrangement arrives in perfect condition and we'll do everything we can to make their floral delivery experience special.
Where Can You Deliver Birthday Floral Arrangements?
Palm Springs Florist offers flower delivery to:
We also offer our flower delivery service in these zip codes:
92262
92292
92264
92263
92234
92270
92260
92211
92276
92253
92210
92201
92203
Contact Us Today for Birthday Flowers Delivered
Palm Springs Florist loves to help people celebrate their special day with creative designs and the freshest cut flowers available in Palm Springs.

Contact us today to tell us what kind of flowers you would like to send to your recipient, or ask one of our professional floral designers to design the perfect birthday floral arrangement for you.