Art of Floristry
Today's flower shop is a place you can trust to create the perfect floral design to send your greetings or express your feelings to those you care about. For centuries, flowers have been used as decoration, to express love, to pay tribute, and to help people express feelings and show care to others.
Here at Palm Springs Florists, our trained floral professionals use their knowledge and the art of floristry to do many different tasks to create floral masterpieces every single day.
From the first time you pick flowers out of the yard to give to your mom, flowers play an important part in the moments of your life. There is a group of professionals in every nation who help people every day to give flowers to show someone they care.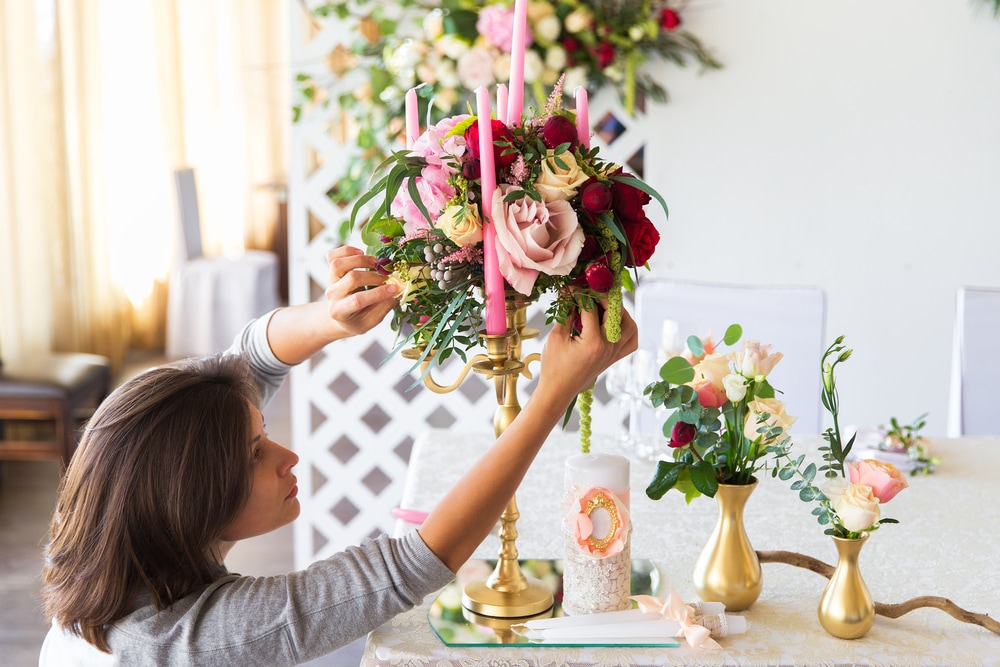 Florists Serve an Important Purpose
A world of blooms, design choices, styles, traditions, and cultures all have an impact on how flowers help people to convey a special message. The most important thing florists do is perform a fundamental function: they help people to communicate.
Using the language of flowers, their talent and experience with color, and their technical design skills, they can create and communicate your message with flowers.
This article takes a brief look at how the industry of floristry all began.
Historical Floristry
Modern floristry, the practice of cultivating and selling flowers, began in Europe in the 1800s. Flowers were arranged and sold as decorations for the home and evolved to include wholesale or bulk flowers. Floral shops offered fresh flowers and arrangements, both pre-designed and custom-made, as well as various articles for caring for the blooms.
How Floristry Began
Florists typically were involved in the aspects of the flower from the cutting and removal to designing the arrangement, to getting the finished product into the hands of the customer. Some florists even cultivated their own flowers.
The successful ones soon learned how to market them to customers. Talented florists created artistic designs and custom orders suited to the tastes and trends of the time, taking into account the availability of seasonal flowers and cultural customs and needs of the era.
The Growth of the Floral Industry
An industry was born. Floral design and the art of floristry became a true vocation, and floristry programs and classes began to be offered in the Dutch islands. The floral design fever soon spread throughout Europe. Floral shops and floral design colleges began popping up in the United States where the industry continued to flourish.
Proud of their industry and talented in their craft, flower shops continued to develop their business and design practices. Designs, techniques and businesses evolved and grew.
Florists Today - Modern Floristry
Flower shops are now located in just about every country in the world. The local mom and pop flower shop is still one of the last small businesses to continue to flourish without a corporate headquarters, and they continue to bring personalized service where other industries cannot.
Floral Associations and Organizations
Today, the American Floral Endowment, The Society of American Florists, and the Flower Shop Network serve as organizations for florists to share and find education, news of the industry, and current trends. The involvement of florists nationwide continues to thrive and grow.
Floristry Education and Training
Education is another important part of the floristry industry. Established designers and artists train floristry students interested in floral design as a hobby or career.
Through community colleges, private post-secondary vocational schools, and professional florist trade associations, primary and continuing education in the floral arts is a major part of our commitment to excellence in our craft.
Scholarships for floral students, endowments for research into horticulture best practices, and discussion on business and supply chain issues are facilitated by these organizations, committed to providing the best to those working in the floral industry.
Flowers Play an Important Part in Our Lives
The art of floristry is important because flowers have become intertwined with the biggest and most important events of our lives. Florists serve a purpose in the community.
We turn to florists to decorate and personalize our dream wedding day with flowers. We send our love and greetings across the miles on Mother's Day with Flowers.
We also celebrate the birth of a new baby with flower arrangements for the mother and the death of someone we held dear with beautiful floral tributes made by florists.
What Does a Florist Do?
As florists, we become a part of big moments. Our expert floral designers can consult, answer questions, and advise you on what floral design is perfect to express your feelings or decorate milestone events.
We can help you to tell someone you love them for the first time or on the 50th anniversary of your marriage. We create floral designs to convey your sorrow at the loss of a loved one, or to celebrate your joy of knowing a soul whose life was well-lived.
As florists, we are proud to apply our knowledge and artistry to help people. Florists can help you to:
Celebrate a birthday

with colorful flower arrangements, balloons, teddy bears, and gifts

Show your love

with stunning anniversary flowers for your spouse

Send well wishes

and encouragement with a cheerful design during times of sickness or loss

Express your crush

or your true love with long-stemmed red roses for Valentine's Day

Welcome a new baby

into the world with an adorable keepsake plush and flowers

Honor your mother

with a lovely bouquet of her favorite pink flowers on Mother's Day

Celebrate a wedding

with custom bouquets, stunning wedding flowers, and fairy tale designs

Perk up someone's spirits

in the hospital

Add that flawless touch to parties

and and make your events dazzling

Remember loved ones

with stately, elegant floral tributes at their wake and funeral

Create an impressive business event

with floral arrangements matched to their motif and brand

Brighten someone's day

with surprise flowers when they are least expected
Learn More About How Our Friendly Florists Can Assist You
At Palm Springs Florist, we take pride in helping you and your recipients to have the best experience possible. Please contact us with any questions or needs and our friendly, knowledgeable staff will cheerfully serve you on the phone, in person, or online.
We are experts in the art of floristry, and we can help you to send flower arrangements locally, or have them delivered to loved ones out of state. Let us show you how our brand of floral artistry can add to your occasion.
Palm Springs Florist delivers same-day flowers to all the following cities:
Palm Springs

Cathedral City

Rancho Mirage

Palm Desert

Indian Wells

La Quinta

Bermuda Dunes