About Us
About Us
All great stories start somewhere, here's ours... It all started with a train ride in 1946. On his way home from the war, my grandfather E. Earl Hall struck up a conversation with Horace Head, renowned floral designer and FTD master design instructor. As the two talked, Horace was so impressed with my grandfather's personality and character he offered to not only train him, but invited Grandpa (Earl) to become a partner in purchasing a floral studio in Palm Springs, CA. "Uncle" Horace and Grandpa opened the doors of Palm Springs Florist March 1947.
In August of that year, Grandpa headed home to Salt Lake City to marry his sweetheart, my Grandma, Mary Lou. The two packed up what belongings they had, traveled by train to Los Angeles, then with Earl's brother pulled their first home, an 18' trailer, into Palm Springs and settled in on September 1, 1947. The trailer had no air conditioning, and the shared bathroom facilities were down the road. Grandma later said, "If we weren't young and in love, I would have headed home out of the scorching desert heat!" With no knowledge of the business, and lots of trust and support from Mary Lou, Earl went to work. Their first deliveries were made by Grandpa on his Schwinn bicycle (visible in photo below) while Grandma rode on the handle bars holding the flowers.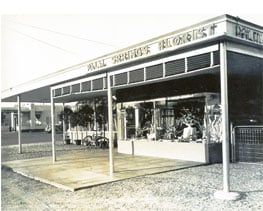 In the early years, Palm Springs Florist was on the outskirts of town surrounded by a developing oasis in the desert, known for its golf & tennis resorts & vacation homes to many famous movers and shakers from Hollywood and all over the world continued to blossom.
As Palm Springs developed into a popular and iconic location, Palm Springs Florist became the "go to" place for all things floral. My grandfather built a reputation of outstanding customer service and the finest blooms in town. As friendships developed with most of the local celebrities, my grandfather frequently serviced the floral needs of Frank Sinatra, Bob Hope, Elvis, Lucile Ball, President Eisenhower, Liberace, and so many more.
Over seventy years later, we are is now into our third generation of family florists. My Dad, Brent and I, are running the show with the help my wife Whitney and mom. The Schwinn is long gone, replaced by a fleet of delivery vans. Endless stacks of paper have been replaced by a state-of-the-art computer system. Our team includes award-winning designers and a first-class delivery crew. Over the years we have enjoyed and celebrated numerous accolades from the community and our loyal customers. While things have changed, the foundation of hard work, uncompromising standards and amazing customer service that my grandfather left for us continues to be our cornerstone as we look forward to the next seventy years.


Click here to see more photos of iconic Palm Springs Florist
www.pinterest.com/psflorist/our-story/
Palm Springs Florist
894 N. Palm Canyon Dr.
Palm Springs,CA 92262
---
Additional Information:
Palm Springs Florist is open:
Mon-Fri: 8:00 AM - 4:30 PM
Sat: 8:00 AM - 1 PM

We are closed on Sundays.
It's always helpful to place your flower deliveries in advance of major holidays to ensure a timely delivery.

To help assure on-time floral delivery during the busy holiday season, place your order at least 1 day prior to the following major holidays:
Thanksgiving Day, Christmas Day, New Year's Day, Valentine's Day, Easter, Administrative Professionals Week, Mother's Day, Memorial Day, Father's Day, Independence Day and Labor Day.

Palm Springs Florist will always be closed on the following holidays: Thanksgiving Day, Christmas Day, New Year's Day, Easter, Mother's Day, Memorial Day, Father's Day, Independence Day and Labor Day.
Contact Information
Have Questions? Get Answers
Please contact us directly at (800)214-7441 or 760-325-7441. We're always here to serve you and make your flower-sending experience a pleasure.
Palm Springs Florist, Inc.
894 N. Palm Canyon Dr.
Palm Springs, CA 92262
Covid-19 Information
As a family owned company, we take this responsibility seriously, ensuring we deliver on our promise to you every day.
We'd like to update you regarding changes that Palm Springs Florist has made to continue to serve our community safely & effectively. We expect to continue to deliver the same level of service and excellence to our customers. We are here to serve you and continue to operate safely and effectively.
At Palm Springs Florist, the health and safety of our customers, recipients and employees are top of mind amid concerns about the spread of COVID-19. We have the following measures in place to ensure continued success & service:

• BEST PRACTICES FOR SANITATION WILL BE PRACTICED AT OUR LOCATION. WHICH INCLUDE:
• SOCIAL DISTANCING IN THE WORKPLACE WITH THE ADDITION OF ENHANCED & THOROUGH CLEANING OF OUR FACILITY
• EMPLOYEE'S THAT ARE SICK/ILL WILL STAY AT HOME
• REQUIRED & REASONABLE PROTECTIVE EQUIPMENT WILL BE WORN BY ALL STAFF AND MASKS ARE REQUIRED BY THE GENERAL PUBLIC TO ENTER OUR PROPERTY
• OUR PRODUCTION FOR DELIVERIES IS EQUIPPED TO RUN SEAMLESSLY
PLEASE NOTE THAT FOR THE SAFETY & PEACE OF MIND FOR YOUR RECIPIENT AND OUR STAFF, WE WILL CALL EVERY RECIPIENT PRIOR TO DELIVERY TO LET THEM KNOW THEY HAVE A DELIVERY AND ASK IF THEY HAVE ANY SPECIAL INSTRUCTIONS AT THE TIME OF DELIVERY. WE WILL NOT TELL RECIPIENTS WHO THE FLOWERS ARE FROM, ONLY MAKE NOTE OF ANY SPECIAL DELIVERY INSTRUCTIONS PER THE RECIPIENT.
Delivery confirmations will
continue to be sent to all customers that have provided us with their email address. *Please note, we will not be able to make a floral delivery without making contact with your recipient via phone in advance. Working phone number(s) are required for your recipient. We fully understand that sending flowers is often a surprise and we will do everything in our power to ensure the experience for your recipient is a special one while doing our part in practicing safe social distancing and being sensitive to the needs and requests of your recipients. **Additionally due to reduced staffing and social distancing measure being taken at PSF, pictures of your designs pre-delivery are not guaranteed. We understand that this is a service that many of you enjoy and come to expect from us. Please know we are doing everything in our power to run efficiently and safely. Pictures of your designs pre-delivery is a service that is not guaranteed until we can return back to normal operating compacity.
All business deliveries will be dropped off with the front desk to be distributed by their staff.
Due to procedural changes at local hospitals, rehabilitation facilities and senior care centers, deliveries are left with front desk personnel. If you are sending to one of these facilities and receive your delivery confirmation that does not mean the recipient has received the flowers. That only indicates that the flowers have been delivered to the facility and their staff is now responsible for the flowers. Please note deliveries to Desert Regional Medical Facility require staff from particular floors to come pick flower deliveries up from the front desk. Our experience is that this can take hours for them to do post delivery. If sending to Desert Regional Medical Facility and you've received a delivery confirmation from us, please call the front desk to check on the status of your delivery as their delivery procedures at their hospital are completely out of our hands once flowers have been delivered and signed for at the front desk.
Signatures upon delivery will not be required at this time, but a verbal confirmation of the person accepting the
delivery via phone will be noted and/or a photo "for our records" will be taken in the absence of anyone at the time of delivery.
Please note that Palm Springs Florist remains committed to delivering the highest quality product and design possible. With global supply chains interrupted we anticipate that there will be scenarios where some flowers or colors may not be available. Please note that we will do our very best to fill your order as requested. In the event that a substitution of flowers and/or color(s) is required, our designers will select the best available flowers to capture a "similar likeness" of what was requested. PSF will not be liable for scenarios outside our control. Including product that is unavailable. If a substitution is required PSF will choose the most appropriate flower & color of equal to or greater value. Please note that PSF will not be issuing refunds in the scenario that the product or flowers that you purchased are simple unavailable. Thank you for your trusting and understanding that we are doing everything in our power to make beautiful and stunning arrangements for your loved ones. Including going to great lengths to ensure we have every possible resource available to us to source the products/flowers needed. Simply put, Covid is affecting the flower industry worldwide and we're doing our best.
We are very grateful for the role we play in your lives and work, and remain as committed as ever to ensuring
your messages of love get delivered. Thank you for entrusting us with the honor of brightening the lives of others during
these challenging times. We wish you, your colleagues and families safety, wellness and positivity. Thank you for choosing and supporting local. It is appreciated more than you know!

Wholeheartedly,
Jordan & Brent Hall
– Palm Springs Florist Inc.
Payment Options
We accept the following payment methods:
Visa
MasterCard
Discover/NOVUS
Diners Club
Carte Blanche
American Express
House Account Invoicing
Specialty Services
We specialize in the following services:
Large inventory of fresh flowers
Tropicals Green & Blooming Plants
European/dish gardens
Contemporary and traditional arrangements
High-style floral arrangements
Silk arrangements
Dried floral arrangements
Weddings
Funeral designs
Premium Orchid Plants
Plush Animals
Delivery Policy
Delivery charges apply to each order based on location. (See delivery charge during check out.) U.S. orders must be received before 12:00 noon in the recipient's time zone to assure same-day delivery. Orders received after that time will be delivered the following day.

We will do our best to accommodate deliveries at specific times of day, but we cannot guarantee it.

We are unable to make deliveries on Sundays. Deliveries requested on this day will be delivered the following business day.

Delivery of orders to rural route addresses or cemeteries cannot be guaranteed.

We will be happy to accept your international orders if you call our shop directly. We are unable to accept international orders over the Internet.

*PLEASE BE ADVISED, OUR DELIVERY POLICY IS TO ATTEMPT DELIVERY FIRST WITHOUT CONTACTING YOUR RECIPIENT UNLESS THEY LIVE IN THE FOLLOWING CITIES (DESERT HOT SPRINGS, SUN CITY/BERMUDA DUNES, LA QUINTA, THOUSAND PALMS & INDIO OR IN GATED COMMUNITIES) WE WILL ONLY CONTACT YOUR RECIPIENT PRIOR TO DELIVERY IF IT'S ABSOLUTELY NECESSARY OR YOU'VE REQUESTED "CALL FIRST."

PLEASE NOTE: UPON DELIVERY, IF WE ARE UNABLE TO MAKE CONTACT AT THE ADDRESS PROVIDED FOR DELIVERY AND YOU HAVE NOT PROVIDED A CORRECT AND WORKING PHONE NUMBER FOR YOUR RECIPIENT, PSF RESERVES THE RIGHT TO CHARGE YOU A SECOND DELIVERY FEE IN THAT SITUATION OF BEING UNABLE TO REASONABLY COMPLETE DELIVERY FOR LACK OF COMPLETE INFORMATION. IF WE DO NOT HAVE THE CORRECT CONTACT INFORMATION FOR YOUR RECIPIENT WE CANNOT REASONABLY BE EXPECTED TO RETURN TO THEIR LOCATION AND ATTEMPT DELIVERY AGAIN WITHOUT COVERING OUR EXPENSES. THIS ONLY APPLIES TO SITUATIONS IN WHICH WE HAVE NOT BEEN PROVIDED WITH COMPLETE CONTACT INFO FOR YOUR RECIPIENT. WE WOULD GREATLY APPRECIATE A WORKING PHONE NUMBER FOR THE PEOPLE YOU'RE SENDING FLOWERS TO. THIS WILL HELP AVOID POSSIBLE DELIVERY RELATED PROBLEMS IF WE ARE UNABLE TO MAKE CONTACT WITH YOUR RECIPIENT AT THE TIME OF DELIVERY. WE PROMISE TO ONLY CONTACT THEM IF IT'S ABSOLUTELY NECESSARY.
THANK YOU - PSF
Substitution Policy
PLEASE BE ADVISED: Due to global supply limitations, we are experiencing an unprecedented worldwide product shortage of fresh and hard goods. Please understand we are doing our absolute best to source the best flowers needed to fill your orders. However due to circumstances outside our control PSF cannot guarantee the availability of any flower/color at this time. We will do the best to create your designs as requested or make the most appropriate substitutions available to create a similar likeness. Thank you for your trust and understanding that your order may have substitutions. Thank you for understanding & supporting our Real Local Business!
Occasionally, substitutions may be necessary to create your bouquet due to the availability of certain flowers in various parts of the country. Care is taken to maintain the style, theme and color scheme of the arrangement, using flowers of equal value. Additionally, the substitution of certain keepsake items may be necessary due to increased demand, especially during major holidays. In single-flower arrangements, such as an all rose bouquet, or orchids, we will make every attempt to match the flower type, but may substitute with another color.
Areas Served
Our shop serves the following areas: Palm Springs, Rancho Mirage, Cathedral City, Palm Desert, Bermuda Dunes and Indian Wells.
We also deliver to the following facilities
Desert Regional Med Center
Eisenhower Medical Center
Hope Square Surgical
Rancho Mirage Health Care Ctrp
Windsor Court Assisted Living
California Nursing & Rehab Ctr
Hallmark Palm Springs
Palm Springs Healthcare
Wiefels & Son Mortuary
Betty Ford Center
Forest Lawn
Rose Mortuary
Desert Memorial Parks
Desert Memorial Parks
Riverside National Cemetery
Agua Caliente Casino & Hotel
Hyatt Grand Champions
Riviera Spa & Resort
Palm Mountain Resort
Spa Resort & Casino
Hotel Zoso
And more...